Multiple Drivers Demand Customer Focus
Customer Focus – We've all seen numerous articles and countless books written on developing customer focus. It is a theme that has been prevalent over the past two decades. Every organization seems to be talking about becoming customer-focused, customer-centric, or customer-centered. Given that circumstance, what is creating the drive to become customer focused? Why are so many companies concentrating on creating a customer focused strategy? What is triggering all of this?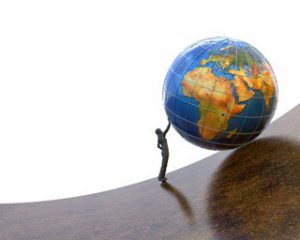 The answers derive from both external and internal pressures affecting organizations across industries.
External Pressures
Global Competition
Our competitive landscape has limitless boundaries. Our customers have a greater number of choices. In order to survive, companies must differentiate themselves with value and a customer-centric approach.
Technology
The internet increasingly provides customers access to more information. Consequently, they are able to research products and services online. Well informed, they give their business to companies that understand their needs and communicate relevant value.
Customer-Centric Segmentation
In many industries the market has become segmented down to the individual customer. Customers demand custom solutions. By definition, these solutions must be focused on their dynamic needs and challenges within their unique circumstances.
Internal Pressures
The external pressures above translate into internal pressures as companies strive to accomplish the following:
Improve Customer Loyalty and Retention
Retaining current customers is well known to be much cheaper than acquiring new customers. Increasingly, companies are seeking new ways to understand and satisfy their current customers. They want to build long-term relationships and high customer satisfaction to expand the share of business coming from their existing customer base. (Keep customers happy.)
Innovate to Expand Market Share
To expand market share, or even maintain it, new products and services must satisfy customer needs better than the competition. Ironically, companies that only give customers what they ask for are often less than successful. The most successful companies know their customers well enough to predict future problems and needs, and build innovative offerings around this big-picture understanding. (Anticipate customer needs.)
Enhance the Customer Experience
Many companies are recognizing that there is more to business than good products and services. In addition, the customer's experience in doing business with them is a critical success factor. Therefore, when a company's internal structure, processes, or politics interfere with its ability to focus on the customer (instead of themselves), customers will tend to move on. Conversely, providing clients with single points of contact, embedding customer focus in internal processes, and organizing the company with the customer experience in mind will delight them. (Make it easy for customers.)
Improve Marketing ROI
In order to have effective marketing strategies in place, organizations must clearly identify and define their customers. Specifically, they must also know how they think and communicate. Knowing the customer enables organizations to create marketing messages that will have more impact and will ultimately be more successful. (Speak the customers' language.)
Identify New Market Segments and Growth Opportunities
Understanding future customers is as important as understanding current customers. A company's in-depth knowledge of their target customer segments is what leads to expansion and growth of their customer base. (Find new customers.)
Conclusion
All of these factors are driving companies to identify ways to distinguish themselves from their competitors. The key ingredient is focusing on both external and internal customers. This requires organizations to look outwardly and inwardly. Delivering a quality, unique product is simply not enough. To stand out, companies must look at how they incorporate the customer's experience throughout their organization – from the front line to the back office.
In our next article we will begin to examine how organizations are Implementing Customer Focus, and how your organization can avoid potential implementation challenges. Meanwhile, visit our Customer Focus services page or contact us for a customer focus consultation.
---
Skills Corner: Tips for Customer Focus
Keeping a Pulse on Business Opportunities
We have all been affected by today's changing and challenging market. Now more than ever it is important that we focus on our customer and provide solutions that meet and exceed their expectations. To accomplish this, we must have a full understanding of our client's needs.
Learning more about your external customers in order to keep a pulse on business opportunities involves:
Listening to needs, challenges, and opportunities

Questioning to further understand what's important to the client

Understanding the client's overall strategies and goals

Suggesting possible actions to take that add value

Planning proactively for the future

Raising issues and concerns that could affect a successful implementation


Searching out known or even unknown business needs.
If you would like more information on how we can help you with your customer-focus strategy and implementation, see our Customer Focus services. Or, contact us for a no-obligation consultation.