Making Services and Sales Synergistic
Unlock Your Huge Sales Potential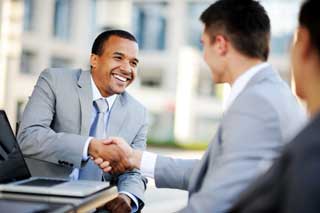 There are two things that leaders of consulting groups and professional service organizations most often want to accomplish with their teams. The first is to get Sales and Services to work together more effectively on solution selling to enhance sales growth. The typical rub is that Services staff get handed projects from Sales they can't deliver on, at least not within the time and budget allotted. In the other direction, Sales doesn't feel adequately supported by Services during the sales process, even though Services is in the best position to formulate complex solutions for clients.
There is a proven solution to this age old dilemma. It requires a bit of a paradigm shift, but it works very well. We would be happy to tell you about it.
The second thing that external service leaders most often want is for their consultants to be more active and assertive in the upsell process to drive sales optimization on existing accounts . Again, the Services staff who have built trusting relationships with clients during current and previous projects are usually in the best position to identify and initiate upsells. However, if they aren't motivated to participate in upsells, don't have a defined role in the process, or lack the skills to have the necessary client conversations, this significant sales potential will remain latent. For more on this topic, read the article by Greg Baker, our President and CEO.
For help turning your latent sales potential into hard revenue dollars, talk with one of our senior advisors. There is no obligation, and no cost, for this high-value consultation.