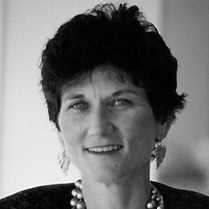 Molly McGinn is a learning specialist focused on designing and facilitating leadership and management skills training for global companies and organizations. She has extensive background supporting strategic planning for large scale initiatives. With an avid interest in transformation at every level, Dr. McGinn has strong personal dedication to her own lifelong learning and to community building at the local and global levels.
Background and Experience
Molly's broad base of clients across diverse industries include Deloitte, SC Johnson, Sun Microsystems, The International Monetary Fund, Merck, Wyeth, Sainsbury's UK, Sony, Honda, Nikon, Nike, EDS/HP, Veterans' Administration, Texas Instruments, Cisco, and ExxonMobil. She is a thought leader in the field of corporate leadership development. For example, Molly collaborated with Michael Watkins at the Harvard Business School to implement "the First 90 Days", a training program for leaders in new roles.
Molly's background includes extensive experience in supporting the strategic planning for large scale initiatives. For example, in 2008 she facilitated a multi-day "Designing a Green Live/Work/Play/Learn Park" session for Embry-Riddle Aeronautical University. This was a gathering of 30 local and national experts in environmental building and work space design, regulatory and compliance issues at the state and national levels, emerging green business, real estate development, and education.
Similarly, Molly facilitated a 2-day leadership development workshop in 2009 for 90 leaders at the Regional Veterans' Administration in Arizona. The mission of the gathering was to develop a clear awareness of the trends in healthcare which the VA is facing and to craft a plan for building bench strength and strategies to meet those waves of change. This is considered one of the most effective development sessions the Arizona VA has ever hosted.
Throughout her career Molly has received a variety of honors and recognitions for her accomplishments.  For example, some of her accomplishments include: four-time Chairman's Award winner at The Forum Corporation (as a facilitator) for exceptional contribution to work with clients; National Geographic's Grand Prize in photography for her photo in Tibet; article published on Tibetan Buddhism in White Lotus. In addition, Molly served as introductory speaker at UCSB for the Dalai Lama following his Nobel Prize award.
Education
Dr. McGinn holds an MA and Ph.D. from UCLA in Cultural Anthropology. She conducted original research on conflict resolution and long term sustainability of communities in monasteries in Japan and Tibet. Molly taught at the Academy of Science in Sichuan Province in China for two years. She is fluent in Mandarin, Japanese, Spanish and English.