Consulgetics Learning Options
Consulgetics is best learned when consultants immediately apply new knowledge and techniques to their actual consulting work. Teaching is essential, but deep understanding and adoption come from direct experience. This tempo of learning and application generally occurs in bite-sized pieces over a period of weeks in online and virtual environments. In addition, our learning programs work best when they are adapted to your organization's needs and preferences. To accomplish these goals, Consulgetics learning options and key elements include:
It integrates training and coaching with participants' actual consulting work to promote immediate adoption of skills and techniques.
Consulgetics learning options accommodate both individual and group training.
For flexibility, we let you choose your desired level of involvement in the process. Choose from do-it-yourself to our full service option.
All activity occurs online and in a virtual environment to maximize delivery flexibility and avoid unnecessary costs.
We offer the Consulgetics Learning Journey at four levels: Self-Paced, Manager-Led, Facilitator-Led and Facilitated Workshop, as outlined in the table below.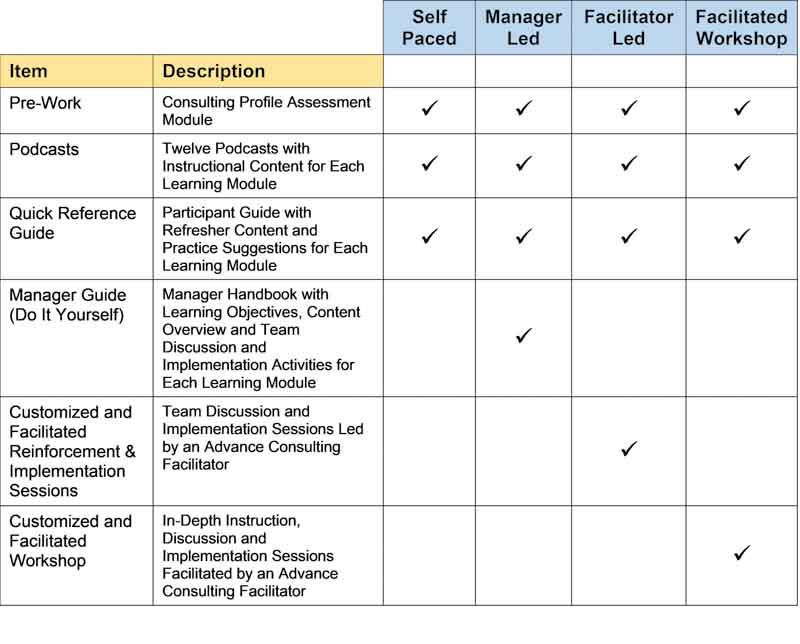 Give us a call at (831) 372-9444 or Contact Us if you would like to discuss you particular needs and options for delivery and customization to your business. We would love to work with you and your team to help you advance the way you work.