Get Expert Advice
A Risk Free Option
You probably don't know us, and may not be ready to invest in Advance Consulting to help you out. We understand. Relationships and trust are important. That's why we created the Preliminary Evaluation, and offer it to you at no cost.
Preliminary Evaluation
The Preliminary Evaluation is a one-hour consultation with one of our Senior Consultants that will give you tremendous value regarding the design of your Service Group Improvement Solution, optimization of your benefit stream, and reduction of damaging incidents and circumstances. It will get you down the road by framing your solution, and give you an opportunity to work with and get to know us.
Following the Preliminary Evaluation, we will deliver a blueprint addressing the following topics: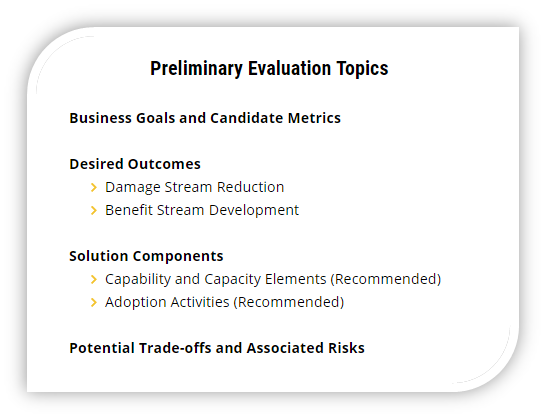 If you like the results of your Preliminary Evaluation (and we suspect you will,) we can take a deeper dive with you to plan your initiative.
Request Your Preliminary Evaluation